Social Media Marketing Services for Law Firms, Lawyers and Attorneys
Learn here "How to promote a Law Firm on Social Media?" and tips for Law Firm Social Media Marketing for a successful business growth.
In modern times, a social media presence has become a vital component of any business. A law practice that is not interacting with the public on a regular basis is as good as invisible. It is almost imperative that you have a presence on at least one or two social media platforms. Having said that, you must also approach social media in a well-rehearsed way. When done right, social media can act as a great boon for your business. On the other hand, if you falter your way into it, it might cost you your reputation and clients. That being said, the benefits of social media for law firms are many. Therefore, it is absolutely crucial that you know what the right way of doing social media for your firm is.

In this blog, you will come to know about the significance of social media platforms for the law business. We are also going to talk about the various benefits of social media for law firms and what are the best social media marketing strategies that can do a world of good for your business.
Grow Your Law Firm With The Best Social Media Marketing Agency In India
Contact Us Today!
Call : +91-8447813291
What Is The Need For Social Media Marketing For Lawyers And Attorneys?
A lot of law firms still struggle with the idea of being on social media. Some others find it hard to implement effective social media marketing strategies that drive engagement and generate leads. This becomes a huge missed opportunity for them as an effective social media presence can help law firms attract prospective clients and get business opportunities. It also helps in building valuable connections. According to some stats, over 90 percent of marketers are on social media. So, if you, being a law firm is not so active in the world of social media, you might be losing out big time.

Benefits Of Social Media For Law Firms
Before we delve into the best methods and practices of using social media, let us first understand how advantageous social media is for lawyers and attorneys. Why should you bother about it in the first place? Is it worth your time and effort? Listed below are some of the ways law firms can benefit from the use of social media;

People are now browsing social media more than ever before. A study found that almost half of the consumers surveyed reported that their personal social media usage has increased. Thus, it is advisable for you to create a strong social media presence. A strong social media presence helps you to get the right message in front of the right audience, helping you to increase brand awareness.
Engaging Your Target Audience
It is common knowledge that people prefer social media as their mode of entertainment more than they use it as a means of communication. There was a time when you used social media to connect with your friends and relatives. Now, people use it more and more to consume content and engage with brands. This, therefore, makes it a valuable tool to engage with your target audience and turn them into business prospects. You can also use social media to inform them with engaging content, answer their questions and help them resolve their issues, and much more.
Attracting Prospective Clients
Social media is extremely helpful in attracting prospective clients. The American Bar association found that about a third of the lawyers who used social media professionally have gained new clients as a result. Additionally, about 49 percent of the respondents accepted that they had been getting new clients on social media.
Establishing Thought Leadership
One major reason why social media is so helpful for lawyers and attorneys is that it builds credibility and thought leadership. Let's say you are talking to somebody on Facebook who needs assistance on some legal issue. You try to offer an easy way out of this. Now, that person would be greatly impressed with your knowledge and expertise on the matter. To him/her, you established trust and showed your expertise. It will not be a wonder if that person in the future recommends you for some legal work. This is how credibility and trust are built through social media. Let's take another example. Suppose you are commenting on a LinkedIn post where a couple of CEOs are talking about some legal issue. If you manage to catch their attention, they might offer some business to you in the future. Because for them, you know the law, and you know the law well.
Improving Your SEO Efforts
Although social signals aren't a direct ranking factor, there is surely a correlation between social signals and improved search engine rankings. Google continues to bring dynamic content such as social feeds into the Google search results. The more active you are on social media, the more chances you coming to the top search results. A strong social media presence will definitely give you more space on the search result pages for your firm's name. A developed social media presence also leads to improved overall online visibility and traffic.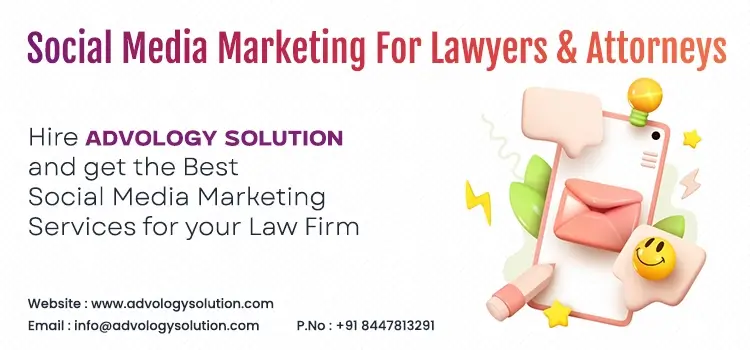 How To Use Social Media Marketing Services For Law Firms?
With a number of social media platforms available, which have their own characteristics and quirks, it is very difficult to know where to start and which platform to capitalize on. In order to know that your law firm is going in the right direction in terms of social media strategies, we have put together a checklist that will help you. If you are a novice in this area, this will help you to put together a robust and reliable social media strategy. If you have already built some presence, then it will show you how to implement your social media strategies better and how to improve the effectiveness of that strategy.

Firstly, make sure that you know the rules and responsibilities that lawyers and attorneys are supposed to have while on social media. Before you make an account on social media, check out the law societies and bar rules for compliance responsibilities and ethics regulations. You must have a clear understanding of the expected behaviour of lawyers and attorneys while they promote themselves on social media.
Figure Out The Target Audience
A law firm can create a viral post viewed by millions of viewers and still be a waste of time. It doesn't matter how many people view that post if they do not have the potential to become or influence clients. Firstly define the target audience. It is also possible that a firm with diverse practice areas may have more than one target audience. It is necessary to adopt a different strategy for each of these target audiences and to target each of them specifically. The more specific you are, the more results your social media efforts will bear. The smaller the target audience is, the easier it will be for you to create an effective campaign that truly speaks to your audience.
Research is important. Check what other competitors are doing in your specific domain and what it is that they are doing differently. You must identify what is working for them and what is not. Follow the other legal influencers, share their content, and engage in their online communities to know what they are doing right and how you can learn from them.
While it can be exciting to use a bunch of social media platforms, trust us, you will be doing a disservice to yourself by doing so. By getting involved with a large number of platforms, you will get overwhelmed and will not be able to dedicate your time and energy to one platform. It can also lead to ethics violations and abandoned social accounts, which does more harm than good.
Choose A Preferred Social Media Platform
As soon as you have defined the target audience, it would make sense to use the platform where the audience is most likely to interact. It may take a little research to figure out what is the right medium for the message. And if you have several target audiences, it makes sense to focus on a different platform for each target audience. One great way of finding an effective social media platform for you is by looking at your competitors. You should be where your competitors are.
Focus On Quality Over Quantity
Content has been often called king, and for a good reason. Never compromise on the quality of the content. A word of good valuable content is worth more than 1000 words of utter nonsense. When it comes to content, it should also be informative and entertaining rather than annoying. When a social media post offers a solution that solves a problem, it is more likely to be appreciated and shared by people. Therefore, you must put out content that is entertaining, informative, and qualitative.
Define Goals And Measure Results Through Analytics And Metrics
A lot of law firms align their social media marketing strategies with increasing awareness and goodwill in the market. However, there are some social media marketing aspects that can be measured. It is quite important to track results. How many people viewed the content? How many interacted with it? What are the leads and conversion rates? These are some of the questions that you should answer from time to time. Tracking the performance can give a firm an idea of what is working and what strategies need to be altered.
Nothing Is Set In Stone!
You must remember that the approach or social media marketing strategies that are working for you this week might not work in the next six months. It may happen that after six months, you might have to start over all again. Social media for lawyers is not set in stone. You might have to reconsider your social media marketing strategies in a year. Times change, and so do the strategies with them. What is working for you today might become irrelevant tomorrow. So, you must keep a close watch on the latest trends and practices. The idea is that you should value the experiment and keep on changing your strategies with time.
Conclusion
In this blog, we have talked about the importance of social media for lawyers. We have also listed the various benefits of social media for lawyers and attorneys and cited the best methods and practices that can help promote a law firm on social media. When searching for a social media marketing agency in India, you must consider one that understands the nuances of social media marketing and aligns itself well with your business goals. We at Advology Solution are helping nurture a lot of businesses' social media. Clients that we have, come from diverse industry verticals and require specific strategies. If you need help managing the social media accounts for your firm or business, consider reaching out to us. We are available through call or mail at [email protected]. Look forward to serving you!
You may also read: How to Use Hashtags in Social Media Marketing?