When you question, what are Google Related Searches? The answer is very simple "The eight searches you see at the bottom of your Search Page are your Google Related Searches". But when you are searching for How to use them in SEO? You need to do a lot of research to get a better understanding.
The Google Related Searches are done based on your search or the searcher's intent by Google's Algorithm. Though it seems tough to learn about the searcher's intent, with the help of Google Related Searches, you can understand it more efficiently, clearly, and easily, along with the pain point. The feature is one of the most important parts of SEO, as it helps the user to find the perfect keyword for your content or article. It shows every small piece of information about your searcher, which in the end, helps you in boosting your content on Google search.
So, now that you get a bit of an idea about Google-related searches, let us discuss them more and understand how to use them for better ranking.
What Are The Benefits Of Google Related Searches?
When we talk about the benefits of this feature, the first thing which comes to our mind is the ease this feature provides to the searcher and even the website owners. It helps the searchers in finding a better and more accurate answer to their problem, whereas, in the case of the website owner, it helps in finding the most accurate keyword.
Sometimes it happens that you have a question in your mind, but you don't know how to put it in words. In those times, you can enter your primary keyword and check the search page first, if you don't find your solution there, then go to the bottom of your screen to check your query in the Google related searches.
Just take an example of "top searches on Google in India or Google India Top Searches", suppose you recently started blog writing, and you don't have much knowledge of SEO. But you must choose a good target keyword, to do so, you can type down your subject on Google and then search for it. After that, reach the bottom of your search page, at the Google Related Searches, you will find different options, choose any of them and make them your target keyword.
Like in the case of "top searches on Google in India or Google India Top Searches", these are the options available:
Get a common related search: top Google searches today India.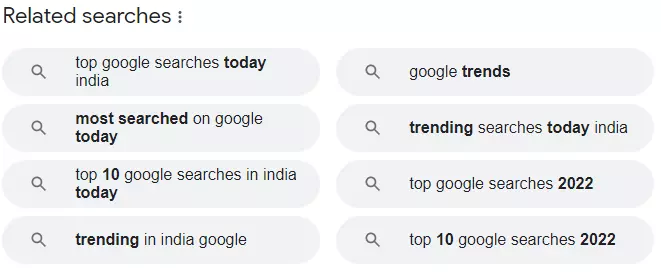 You can use any of them as a keyword, according to your requirements.
Apart from that, it has advantages like:
1. Understand The User's Demand
To get more knowledge of the searcher's demand, you can check either the People Also Ask section or the Related Search. Both of them have a massive list of queries that people search for. Go through each and understand them, once you understand the right query that most people are searching for, you can modify your content according to that. By this, you can reach a larger number of people.
2. Better Keyword Planning
For keyword planning, you can go to the Google related search, take the keyword or phrase from there and use it in Keyword Research Tools like Semrush and Ahrefs to check the search volume and competitiveness of the particular keyword. This can help you in deciding keywords that you can use for better ranking.
3. Understand the User's Intent
Related searches are meant to help in understanding your searcher's requirements. It will tell you about what different people are searching for, what are their concerns and needs and what kind of solution they are in search of. You can find the user intent gaps and fill them with your answers.
Is Google Autocomplete And Google Related Searches Different?
Autocomplete is Google's feature that helps you search for things faster by showing you different suggestions when you start to type. It is designed to save you time by guessing and showing you relevant search results before you complete your typing. These are predictions based on past searches related to the original keyword or query.
Whereas when we talk about related searches, they too are predictions, but they don't need to have an original query. These are related queries, which sometimes do contain the original query and sometimes don't, depending on the Google search.
How To Search For Relevant Keywords With The Help Of Related Searches?
To search for a good target keyword, you have to go through a proper procedure.
1. Create A List Of Keywords
With the help of "Google Related Searches," You can get a list of fresh and relevant keywords. To get an endless list of powerful keywords, you can use the first set of related searches, and make them a new query, to find the next list of related keywords. By this, you will have a massive list of keywords in a very minimal time.
2. Boost Your Keyword Research
For keyword research purposes, you can even use Keyword Explorer. It is a tool that helps you by providing hundreds of profitable keywords from different sources and organizing them into a list.
This can be used to target your potential customer, and along with that, it also tells you how difficult it is to rank with a particular keyword.
Note: For better keyword research, you can also try to use different tools like Ahrefs, Semrush, etc. This tool collects data from both the "Related Search" and "People Also Search For" sections and then gives you keyword suggestions.
Is It Possible To Control Related Searches?
When we talk about related searches, we know it is dependent on Google's algorithm, making it impossible for us to take control of itself. Then what can you do for a safe keyword search to make your online reputation?
However, you can try online reputation tools or hire a reputation management company to maintain your website's reputation. Along with that, you also have to provide high-quality services or content and a user-friendly interface to the people to boost your website.
Mobile Related Searches
On mobile devices, related searches on Google include a brief extract, where when you click on a related Google search result, you will not be redirected to another page like on a desktop, but you will get a drop-down option where you can read the result with brief information.
Summing It Up
If you still have a bit of confusion or you want your website to rank in the top 10 of Google searches but don't know what to do, then you must hire an expert like us. We at Advology Solution have a team of experienced professionals who will work for the progress of your website and business.
You can contact us to achieve your goals.
You May Also Read: Google Web Story - How To Create Google Web Stories For Websites?